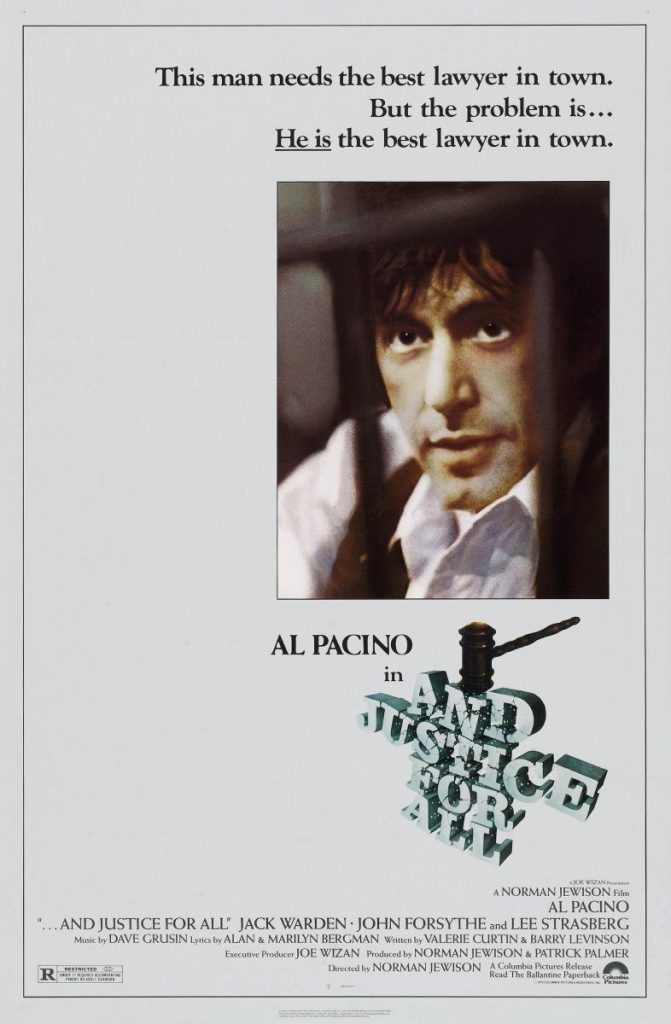 I sometimes get into an argument with myself if this is a Norman Jewison film or Al Pacino film.
---
It's not a Barry Levinson film, although he shared an Oscar nomination for the screenplay.
The script isn't the best thing about this film. It's not even in the top ten things about this film. It's about the case, which is one of the coolest casts in the late 70s. Pacino leads, and chews every bit of scenery. There isn't much of a character arc. He is in the beginning as he is in the end. He just finally says more loudly what he has said throughout – the system is "out of order."
But the rest of the cast: Jack Warden, John Forsythe, Christine Lahti, Jeffrey Tambor and Craig T. Nelson – this is a cast of the best of 80s network TV. Add the king of method acting Lee Strasberg, and you have this film.
It shouldn't work. It does.
What makes it work is that Pacino plays attorney Arthur Kirkland. Everyone thinks he's a little off. He is. Way too passionate for a defense attorney. Way too angry to ever get what he wants from a judge.
This cast is full of characters that are much more insane than the one they think is crazy: A suicidal judge with a gun to bring court to order. An attorney who flips out when he feels guilty about winning acquittal of a guilty man. An ethics attorney who protects the powerful by convicting little distractions. A judge who knows the system so well, he knows exactly how to beat it.
Pacino relishes in taking on the system, but it's not with dramatic seriousness like it was in "Serpico." Like most Jewison films, it makes its social justice case, but it isn't a documentary. It's entertainment, and it is entertainment.
Oddly, although most of the cast enjoyed a nice bump of careers due to this film and its $33 million gross on a $4 million budget, Pacino didn't. The 80s weren't kind to Pacino, and this was the last "Pacino" star role he had for quite a while, excepting "Scarface" in 1983.
Despite having one of the most quoted (and parodied) courtroom closings in movie history, this film isn't discussed much and isn't broadcast often.
When most people think of Pacino, it's this Pacino they have in mind. This film is worth another take.
The Highlight Reel
Of course, the highlight is really Pacino screaming "You're out of order. You're out of order." But my highlight reel is the scene where Pacino interviews with a review panel pointing out that bureaucracy can't do a good job of anything, and can't even keep their own questions straight. It was a very "Dirty Harry" type of scene that I think Pacino had more fun making than the more famous ones.
---
And Justice for All Crime, Drama, Thriller | 119min | October 19, 1979 (United States)

7.4

Director:
Norman Jewison
Writer: Valerie Curtin, Barry Levinson
Stars: Al Pacino, Jack Warden, John Forsythe
Summary:
When a judge is charged with rape, Arthur Kirkland is forced to defend him. Kirkland has had problems with the judge in the past, including one incident when the judge wrongly sentenced his client Jeff McCullaugh because of a technicality. Kirkland faces a moral and legal dilemma. —Melissa Portell <mportell@s-cwis.unomaha.edu>
Photos
See all photos >>