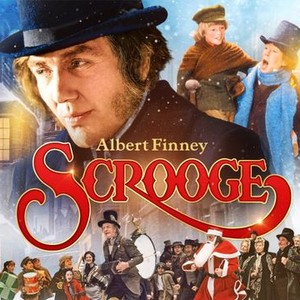 Each year, television is inundated with Christmas movies, and some channels play them like radio stations play Christmas music – wall to wall.
---
I rarely see "Scrooge," by far my favorite version of the famed Charles Dickens classic, "A Christmas Carol". There are tons of them, mind you, but to be expected when the original work is in the public domain and so widely known.
Of course, this one's a musical and, after this 1970 film, I don't think a live-action Scrooge musical was filmed again.
It's London-filled and London-cast, so it's good on the accents and location. Snagged an Oscar nomination for Art Direction and one for Costume Design.
I saw this as a kid as part of a school field trip to the movies in the late 70s and I've loved it ever since.
First of all, Obi Wan Kenobi as the Marley the Ghost! I was hooked from the get-go. I had no idea who Albert Finney was, but he does a great turn as Scrooge here, earning a Golden Globe. You can see his future as Daddy Warbucks in this performance, making a similar character arc.
There's an energy to this film and the music really gives the film its momentum. The street kids get to harass Scrooge as "Father Christmas", the Ghost of Christmas Present has a blast with "I Like Life", and the best scene of the film includes "Thank You Very Much", a neighborhood celebration that Scrooge attends and joins without realize they are all celebrating his death.
Most of the other songs are less memorable but move the story along.
Scrooge's redemption is really turned up a notch here, with Scrooge buying so many toys that he needs all the city's kids to carry them for him, and he forgives so many debts that he'll probably be out of business by the new year, but why quibble with details? Finney makes you want to frolic along.
The film didn't do great box office business and has been hard to find on television, but in the streaming world, there's an app somewhere playing "Scrooge". Look for it.
If you've seen in the 50+ years it's been around, it's worth another take.
The Highlight Reel
Despite that the funeral celebration scene is by far the best one, what makes this Scrooge distinctive is the wonderful descent to hell. In most versions, Scrooge faces his grave and falls into his own bedroom, realizing he has a second chance. Not here. Scrooge joins Marley in hell, to be told his job is to be Satan's assistant and will be treated like Scrooge treated Bob Cratchet. It's fiendishly dark and makes this version stand out.
---
Scrooge Drama, Family, Fantasy, Musical, Romance, Thriller | December 17, 1971 (United States)

7.5

Director:
Ronald Neame
Writer: Charles Dickens, Leslie Bricusse
Stars: Albert Finney, Alec Guinness, Edith Evans
Summary:
In 1860, cranky old miser Ebenezer Scrooge hates Christmas, loathes people, and defends the decrease of the surplus of poor population, runs his bank exploiting his employee Bob Cratchit and clients, giving a bitter treatment to his own nephew and acquaintances. However, on Christmas Eve, he is visited by the doomed ghost of his former partner, Jacob Marley, who tells him that three spirits would visit him that night. The first one, the spirit of Christmas Past, recalls his miserable youth when he lost his only love due to his greed, the spirit of Christmas Present shows him the poor situation of Bob's family, and how joyful life may be and the spirit of Christmas Yet To Come shows his fate. Scrooge finds that life is good, and time is too short, and suddenly you are not there anymore, changing his behavior toward Christmas, Bob, his nephew, and people in general. —Claudio Carvalho, Rio de Janeiro, Brazil
Photos
See all photos >>