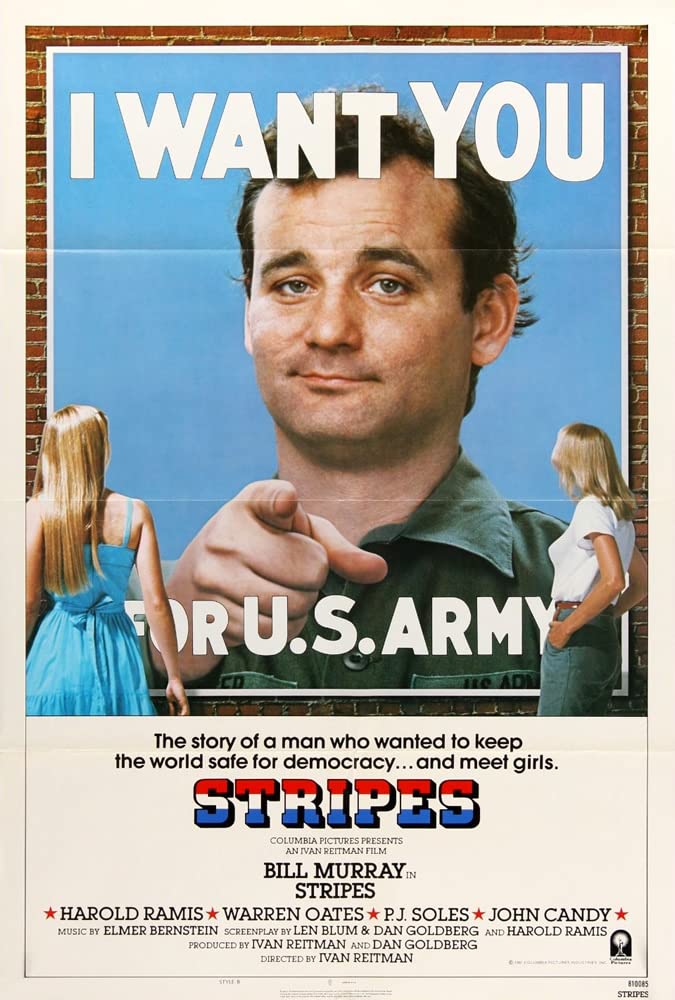 The comedy trilogy of my childhood was Animal House, Caddyshack and Stripes.
---
R-ratings weren't strictly enforced, and I had seen this trilogy by the age of 13. I had to see it with Siskel and Ebert giving it good reviews.
The film began as a Cheech and Chong vehicle in the Abbott and Costello "Buck Privates" tradition developed by Animal House's Ivan Reitman. When Reitman saw that his idea with Cheech and Chong's involvement would be quickly out of his control, he opted to cast Caddyshack's writer Harold Ramis and actor Bill Murray.
Although Ramis was a SCTV alum, this would be his first film acting work and his pairing with his friend Bill Murray would lead to the blockbuster hit "Ghostbusters" with Reitman as director.
Murray was at his best here, playing the ne'er do well slacker who talks his buddy into joining the Army, and proceeding to get in constant trouble while finding time to flirt with female MPs. Oddly, the two find themselves overseas and AWOL which allows them to save their captured unit and avoid an international crisis.
A lot of improv and a great supporting cast including a young John Candy and a pre-"Night Court" John Larroquette, Judge Reinhold before "Fast Times at Ridgemont High" and "Beverly Hills Cop," as well as P.J. Soles and Sean Young.
From a budget of $10 million, box office exceeded $85 million, more than "Caddyshack" but nowhere near "Animal House"'s record box office for comedies, a record that was broken by "Ghostbusters" and "Beverly Hills Cop" in 1984.
Murray set his character archetype in "Meatballs" (another film worth Another Take), but Stripes was where he hit his took that character to rarified box office air.
If you haven't seen the trilogy, they're all worth another take.
The Highlight Reel
Easily the best scene was the Army graduation cemetery when Murray leads his fellow soldiers to an crowd-pleasing performance showing their exceptional synchronized training maneuvers.  That's the fact, Jack.
---
Stripes Comedy, War | June 26, 1981 (United States)

6.8

Director:
Ivan Reitman
Writer: Len Blum, Daniel Goldberg, Harold Ramis
Stars: Bill Murray, John Candy, Harold Ramis
Summary:
At the end of a very bad day when he realizes his life has gone and is going nowhere, John Winger is able to convince his best friend, Russell Ziskey, whose life is not much better, to enlist in the army, despite they not being obvious soldier material. In basic training, they are only two of a bunch of misfits that comprise their platoon. However, it is still John that is constantly butting heads with their drill sergeant, Sergeant Hulka. Two of their saving graces are Stella and Louise, two MPs who get them out of one scrape after another. Their entire platoon is in jeopardy of not graduating. But what happens during basic leads to their entire platoon being assigned to an overseas mission in Italy, to test a new urban assault vehicle, the EM-50 project. John and Russell decide to take the EM-50 for an unauthorized test drive to visit Stella and Louise who have been reassigned to West Germany. In the process, the rest of the platoon, Hulka, and Hulka's immediate superior, self-absorbed Captain Stillman, get caught unofficially behind enemy Communist lines in Czechoslovakia. John and Russell, with Stella and Louise's help, will have to show their true mettle as US army soldiers and in the process test the capabilities of the EM-50 to rescue their platoon without the rest of the US army knowing what's going on, and thus without any assistance beyond themselves. —Huggo
Photos
See all photos >>