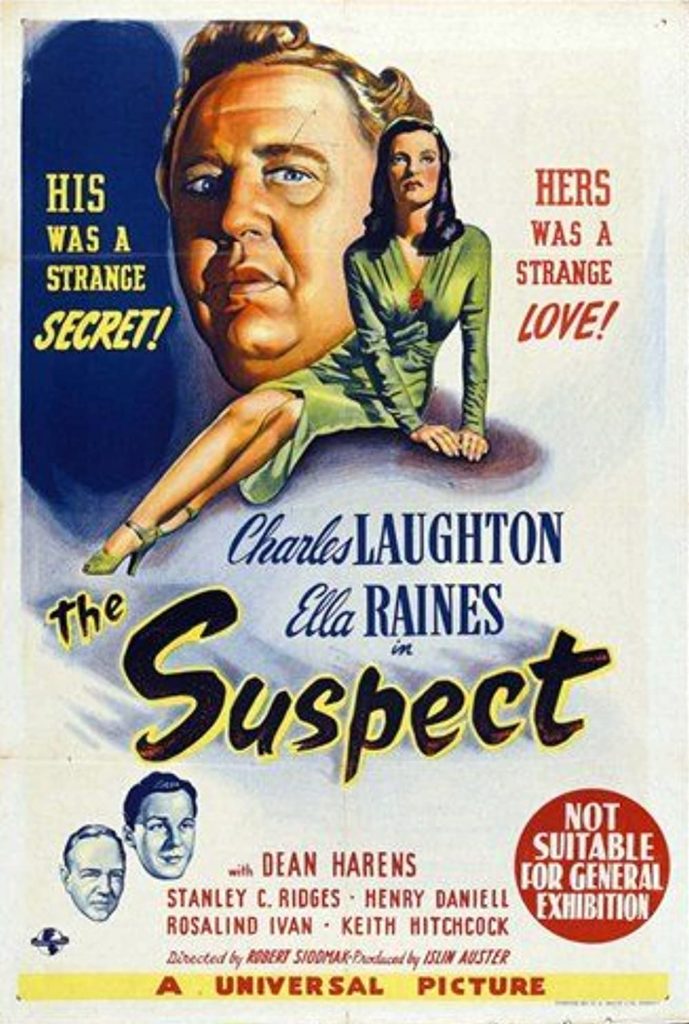 Robert Siodmak is a name you never hear in film history, but his short American career includes some amazing work. 
---
He dabbled in the film industry in Germany, fleeing Nazism to Paris and then fleeing Nazism again to California.
After directing "Son of Dracula", Siodmak found his niche in the noir genre, and directed some of the eras most memorable films: "The Killers", "Criss Cross" and "The Spiral Staircase".
I was always partial to "The Suspect". Charles Laughton carries the film, and he's on screen constantly. It's amazing how much he communicates without saying a word, but he engages you in the story from the get go. It's hard to get audience sympathy for a murderer, but he does it. He plays Phillip Marchall, a retail manager with an abusive wife. He befriends a young clerk but doesn't cross the line to an affair. He's discovered nonetheless and his wife threatens not divorce but public humiliation for him and his girlfriend.
His wife soon after dies in a fall, and Scotland Yard deems it an accident, but one inspector isn't so sure.
This isn't a mystery or whodunnit. This is all about Marshall and how his actions lead to further actions, and the question isn't who is guilty but will he ever be caught.
The supporting cast has a thankless job: Keeping up with Laughton and getting no credit for doing so. They all create memorable characters, but no one shares the screen with Laughton and can hope to be memorable.
But Siodmak keeps things atmospheric and well-paced and smartly doesn't tell us everything through dialogue. Much of the story is implied, trusting the audience to connect the dots ourselves. That's probably what I like the most about this one.
This isn't Captain Bligh or Sir Wilfred Robarts.  But it's worth another take.
The Highlight Reel
Gotta see the first questioning of Marshall by Huxley at the scene of the crime.  You'll be screaming at the screen for Marshall to say anything except what he says.  Masterful!
---
The Suspect Drama, Thriller | May 3, 1945 (Mexico)

7.4
Director:
Robert Siodmak
Writer: Bertram Millhauser, Arthur T. Horman, James Ronald
Stars: Charles Laughton, Ella Raines, Dean Harens
Summary:
In 1902 London, unhappily married Philip Marshall meets young Mary Gray, who is unemployed and depressed. Their deepening friendship, though physically innocent, is discovered by Philip's wife who threatens him with exposure and scandal, driving him to kill her. Thereafter, fortune seems to smile on Philip Marshall; but does fate have a surprise in store? —Rod Crawford <puffinus@u.washington.edu>
Photos
See all photos >>