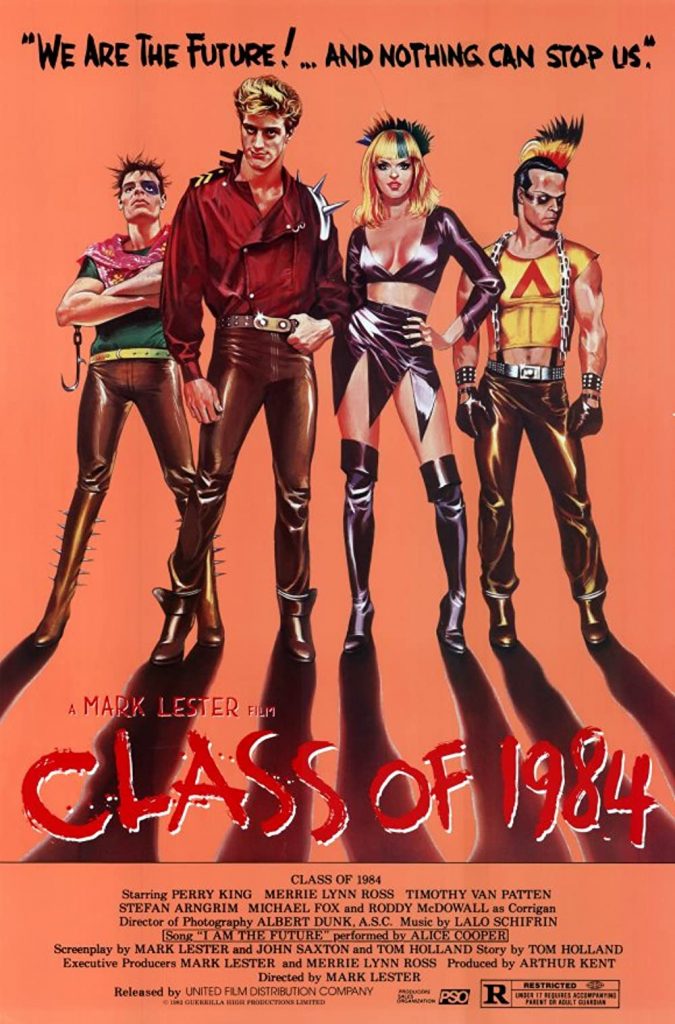 I'll admit it. Many of the films I enjoyed as a child were supremely influenced by a PBS show called "Sneak Previews" with Gene Siskel and Roger Ebert.
---
They left the show in 1982 and went to network syndication with "At the Movies". "Sneak Previews" continued without them and never really clicked with me. Siskel and Ebert were it.
If they liked a movie, I was seeing it. That made for some odd requests from an 11-year old asking to go see "Halloween" or "My Dinner with Andre".
Or "Class of 1984", which got a huge positive review from Ebert.
What iced it for me was the casting of Roddy McDowell, whom I always had an affinity for in the movies, dating back to the first film I ever saw, "The Poseidon Adventure". Couple McDowell with the soon-to-be writer/director of "Fright Night" Tom Holland and I'm interested.
Holland shares writing duties here with director Mark L. Lester, who went on a nice, little run after this directing "Firestarter" and "Commando".
"Class of 1984" is almost the cynical brother to "Lean on Me". In "Lean on Me", we find a school overrun with gangs, drugs and violence. They make Morgan Freeman the principal, kick out the thugs, and everyone passes tests. Simple, right?
In this film, Perry King is a music teacher in a gang-ridden school. That's where the comparison ends. King tries to weed out the troublemakers, led by Timothy Van Patton, in a complex role with a real duality. He is very smart, but very manipulative with ultra-violent tendencies.
Once the gang goes to far, King has to decide whether to fire with fire.
It's not complicated plotwise, but this film has a reality to it that makes you buy into King's decisionmaking process, and Van Patton makes everyone in the audience want to slap or strangle him. It's a very manipulative film, as most good ones are.
But Roddy McDowell makes the movie with one crucial scene. It's easily the best for the Highlight Reel, so skip down to that if you can't wait. It's unforgettable.
One of the good students is played by a very young Michael J. Fox, who gets a good bit of screentime and makes the most of it. You can see parts of his Alex P. Keaton persona already in place and it's a nice window to what his career would soon become.
"Class of 1984" made double its production budget, but had a hard time getting released. Studios rejected the film before it made a splash at Cannes and rejected it afterwards. It finally got released in New York and did well, but it was no E.T.
If you ever wondered what would happen if they merged "Lean on Me" with "Death Wish", see "Class of 1984."
And give Roddy McDowell's performance another take.
The Highlight Reel
Here is the real reason everyone who saw this film remembers it.  After the Biology teacher played by McDowell has his lab destroyed and his animals violently killed and displayed all over the classroom, McDowell decides it's pop quiz time, except the pop is from his loaded pistol if a question is incorrectly answered.  It's an amazing scene and everyone plays it well.  Great pacing, great direction.  Impossible to forget.
---
Class of 1984 Action, Crime, Drama, Thriller | 98min | August 20, 1982 (United States)

6.6

Director:
Mark L. Lester
Writer: Tom Holland, Mark L. Lester, John C.W. Saxton
Stars: Perry King, Merrie Lynn Ross, Timothy Van Patten
Summary:
There's something strange going on at the graffiti-covered Lincoln High, as teachers are carrying loaded guns, and the students have to walk through a metal detector before they enter the classroom. Before long, the school's new music teacher, Andrew Norris, will learn firsthand that it's even worse than it looks, as the drug-plagued institution is the territory of the charismatic Peter Stegman and his brutal gang of crazed followers. Now, under those dire circumstances, it's only a matter of time before the professor and the pupil lock horns, with unforeseen consequences. But, do drastic times call for drastic measures? In the end, is there a cure for violence? —Nick Riganas
Photos
See all photos >>