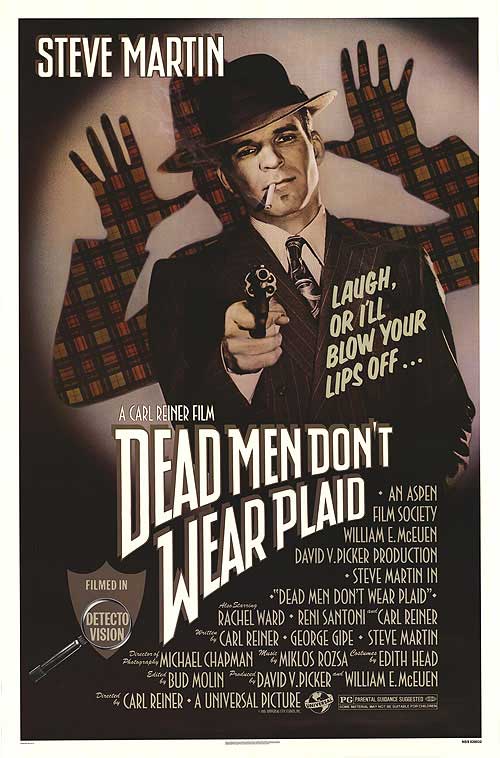 In 1982, I was a big fan of movies I couldn't possibly have seen from the 30s and 40s. We actually had a VHS VCR in the house, but the small video store near my house had very few movies from that era. But I read about them in tons of books at the library.
---
The first chance I had to see scenes from movies like "Suspicion", "Notorious", "Double Indemnity", "White Heat" or "The Big Sleep" was a comedy called "Dead Men Don't Wear Plaid."
It never plays on television (in fact, not many of Steve Martins earliest films are on television come to think of it), but it's fantastic.
Steve Martin plays it mostly straight as a private eye investigating a possible murder. The plot has nothing to do with anything – it's a classic McGuffin. It's just an excuse and a frame for working in lots of clips from old movies as if Martin is interacting with Bogart, Grant, Cagney and many, many more stars from the film noir era.
It's called a comedy, but there isn't much funny in this movie, which surprised me as it is written and directed by Carl Reiner.
The intercutting of scenes is fantastic – sometimes a stretch and of course the quality of these old clips, especially the sound, makes it obvious that they're clips at times, but I give a lot of points for the effort here.
I'd love for someone to remaster this and the original clips and really make this seamless.
Audiences didn't flock to this film, barely breaking in the Top 50 of the year, edging out "Airplane II: The Sequel". But in the string of films between the monster hit "The Jerk" and the acclaimed "All of Me", it was the top grossing film of the bunch.
You'll have to hunt this one down, but it's worth the effort. Maybe it's time for someone to do this for films of the 1970s.
For the time being, enjoy a tribute to the old PI films and give this one another take.
The Highlight Reel
If you've never seen Martin make a cup of java, his scene with Burt Lancaster is all you need.
---
Dead Men Don't Wear Plaid Comedy, Crime, Mystery, Thriller | 88min | May 21, 1982 (United States)

6.9

Director:
Carl Reiner
Writer: Carl Reiner, George Gipe, Steve Martin
Stars: Steve Martin, Rachel Ward, Alan Ladd
Summary:
Juliet Forrest is convinced that the reported death of her father in a mountain car crash was no accident. Her father was a prominent cheese scientist working on a secret recipe. To prove it was murder, she enlists the services of private eye Rigby Reardon. He finds a slip of paper containing a list of people who are "The Friends and Enemies of Carlotta." Searching for answers, Rigby encounters assorted low-lifes: dangerous men and women who were the hallmarks of the classic detective movies of the 40's and 50's. Filming in black and white allows scenes from old movies to be cut into this film. It is through this process that Rigby's assistant is none other than Philip Marlowe himself. —Tony Fontana <tony.fontana@spacebbs.com>, Ed. by Peter Victor <thevictor99@yahoo.com>
Photos
See all photos >>