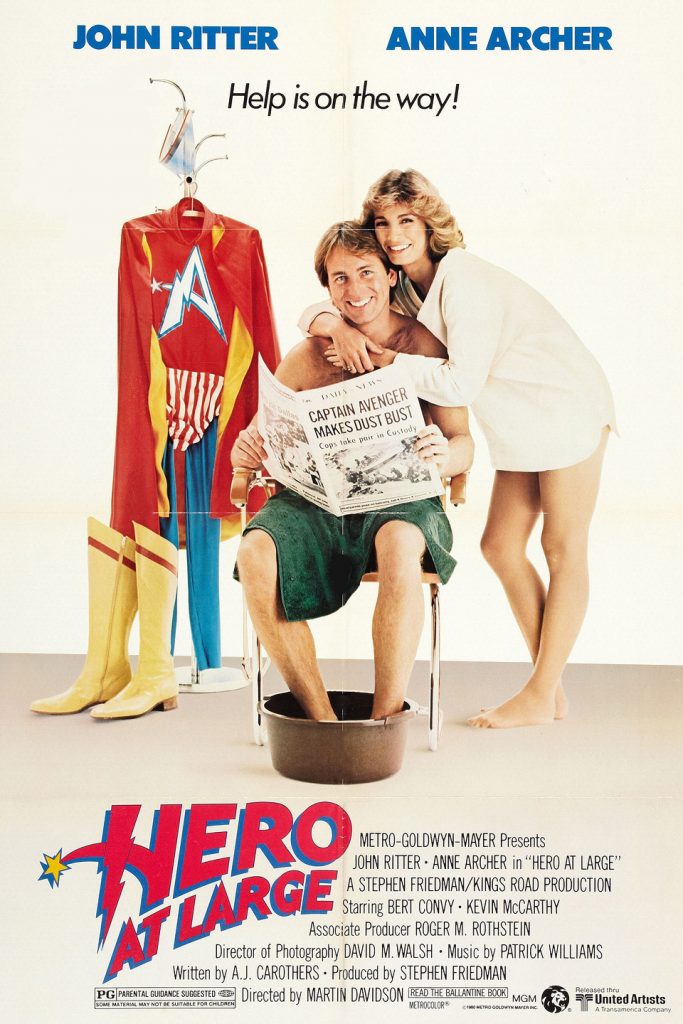 Ever see a movie that looks, feels, and sounds like a TV show even though you're sitting in the theater?
---
That's Hero at Large. A director who, despite directing "Lords of Flatbush" which launched Sylvester Stallone, Henry Winkler and Perry King, spent most of his career in television, and a writer who wrote mostly for television and a cast of TV familiar faces led by "Three's Company" star John Ritter make this film, and it somehow worked.
"Hero at Large" was released in the wake of "Superman: The Movie" which was a blockbuster hit and a starmaking role for Christopher Reeve. This film brings us Steve Nichols (Ritter) who is a struggling actor making some bucks promoting a much-lower budget superhero film, "Captain Avenger". Steve puts on the costume and signs autographs for kids at local theaters where the movie plays to small audiences.
He plays it with gusto, though, with boy scout charm and positivity to the extreme. When his best friend gets hired for a commercial, he's thrilled and not jealous in the least.
One night walking home from his Captain Avenger gig, he stops at the corner store, which happens to get robbed while he's there. Steve foils the theft and gets a taste of being a hero, and likes it.
Looking back, the film could've taken a more serious turn, as Steve finds out crimefighting isn't all that easy and politics can hype up something until it becomes a mockery of itself, but the film stays light.
Everything wraps up nicely in a TV sort of way, and it strikes me how un70s-ish this film is. Some Easter eggs hearken back to Taxi Driver, but almost in a contrasting way, as if to say that the years of DeNiro, Pacino and Nicholson with crime, violence and murder are going away. The 80s are going to be lighter and less cynical. Instead of crooked cops and gangsters, get ready to like the good guys again.
It came and went through the box office, finishing in the Top 50. You can find a young Kevin Bacon in a speaking role if you watch close enough. But Ritter's everyman persona is engaging and I liked the spin on the "everyone can be a superhero" theme that by the end of the move inspires even the evil media to jump on board.
Still, it's odd that a film so perfect for the small screen hardly gets any play nowadays. It's worth a look.
The Highlight Reel
I can watch the scene in the grocery store where Captain Avenger first emerges over and over again. If you do, you can see some shots repeated to make the thrashing of criminals last a little longer. And he even gets free milk out of the deal. Good stuff.
---
Hero at Large Comedy, Romance | 98min | February 8, 1980 (United States)

6.0

Director:
Martin Davidson
Writer:
AJ Carothers
Stars: John Ritter, Anne Archer, Bert Convy
Summary:
An idealistic but struggling actor finds his life unexpectedly complicated when he stops a robbery while wearing the costume of Captain Avenger, a superhero character of a film he is hired to to promote. He decides to dabble at being a superhero only to find that it is more difficult and dangerous than he ever imagined. —Kenneth Chisholm <kchishol@execulink.com>
Photos
See all photos >>