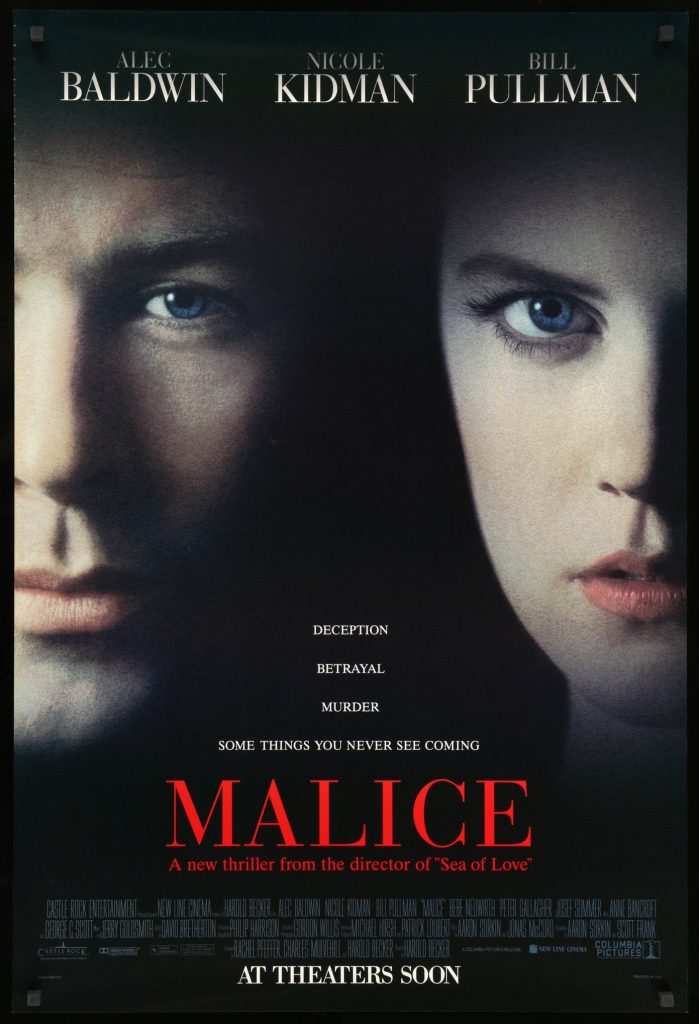 The early 1990s were a good time to do husband and wife thrillers, and "Malice" is just about the best.
---
Coming of his hit play-turned-movie "A Few Good Men", Aaron Sorkin pens this story of intrigue, after which he veered off into politics with "The American President", "The West Wing" and "Charlie Wilson's War."
But I've always loved "Malice." It catches three actors hitting their dramatic strides in Alec Baldwin, Nicole Kidman, and Bill Pullman. The three became very bankable box office stars, so it is pretty entertaining seeing them work here.
Rounding out the cast is a young Peter Gallagher, Gwyneth Paltrow, and the veteran hands George C. Scott and Anne Bancroft.
Critics at the time complained that the film hits you over the head with its plot twists, but I never found it that way. Baldwin carries so much of the film, in a Titanic sort of a way. His ego is so unsinkable that it has to cost him eventually. Kidman gets a bit over the top. But the character arc of Pillman in being the naive dutiful husband who figures it all out is a joy for me to watch.
Harold Becker directs with skill and is clearly an actors' director. He lets the actors bring the characters in and they shine.
Reviews with plot information ruin films like "Malice" – reading a plot somehow seems to reveal endings that simply watching films won't reveal. In many ways this is an old-style whodunnit and a story about revealed truths.
If you've never seen "Malice", see it. If you have, it's worth another take.
The Highlight Reel
Everyone would probably pick the "I am God" monologue from Alec Baldwin, but not me.  The scene of the movie is Anne Bancroft's one scene with Bill Pullman, with her love of single-malt scotch and her experience of marriages that aren't quite what they seem to be.  It's the highlight real that should've earned her a supporting Oscar.
---
Malice Crime, Mystery, Thriller | 107min | October 1, 1993 (United States)

6.4

Photos
See all photos >>