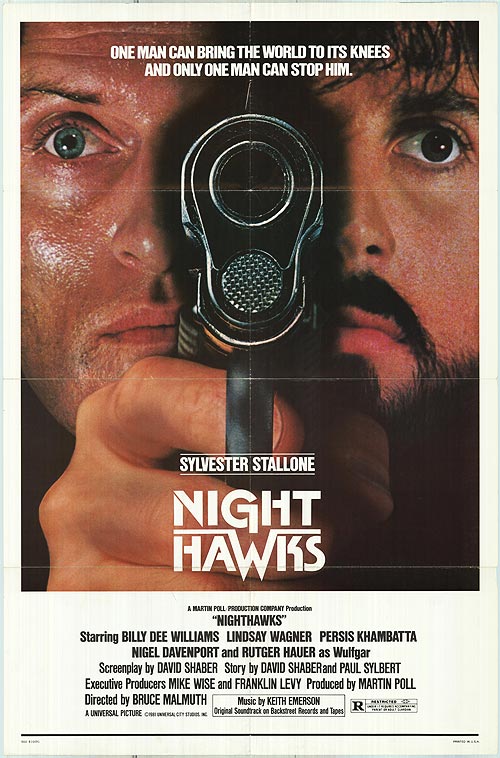 Once in a while, a movie comes along that was decades ahead of its time. That's "Nighthawks".
---
Perhaps it's better to say it was caught between eras. "Nighthawks" is a Sylvester Stallone vehicle that should've performed better than it did. It paired Sly with Billy Dee Williams as New York cops turned anti-terrorist agents tasked with capturing Rutger Hauer, and all turn in fine performances. Even the terrorism expert who runs training like a mental boot camp is memorable, thanks to a great supporting performance by Nigel Davenport.
Lindsay Wagner and Persis Khambatta round out the main cast, although they aren't given much to do. This film is about Stallone and Hauer and they do not disappoint.
Stallone can't get away from the Rocky formula even in a police movie. It's a one on one battle building through half the film, and delivers in a confrontation that's both predictable and unforgettable.
"Nighthawks" never found its audience. It barely broke the top 50 at the box office, despite having the star power of "Rocky", "The Empire Strikes Back", "Star Trek", and "The Bionic Woman" in the cast.
1981 was a little late for a movie that tries its best to be in the mid 70s. From the music to the cinematography, this movie tries to be "Death Wish", "Black Sunday" and anything with DeNiro.
Stallone underplays a lot here, which is a rarity in itself. But villains make movies, and Hauer's Wolfgar is about the best terrorist I've seen on film. He's a well-spoken European that no one would expect to be a murderer, much less an international terrorist. His initial act defines his character and sets the stage for his American invasion.
The film bogs down in the third act, because all the setups have to come to a conclusion, and Wulfgar's getaway is much less grandiose than his acts of terror. The ending is abrupt, in typical 70s style, and leaves many plot questions unanswered, or at least unresolved.
Terrorism films in the 80s were bombastic, with large explosions and high body counts. Police films in the 70s were gritty and rough. "Nighthawks" was probably made five years too late to be a hit, but it's a pretty neat transition as Hollywood moved from Dirty Harry to Rambo.
The Highlight Reel
Check out the scene in a dance club, when Stallone and Williams try to find their enemy in a crowd of nightclubbers.  Problem is that he's had plastic surgery.  What does he look like now?
---
Nighthawks Action, Crime, Thriller | 99min | April 10, 1981 (United States)

6.4

Director: Bruce Malmuth, Gary Nelson
Writer: David Shaber, Paul Sylbert
Stars: Sylvester Stallone, Rutger Hauer, Billy Dee Williams
Summary:
Deke DaSilva (Sylvester Stallone) and Matthew Fox (Billy Dee Williams) are two New York City cops who get transferred to an elite anti-terrorism squad. About this same time, an infamous international terrorist shows up in New York City looking to cause some chaos. It's up to DaSilva and Fox to stop him, but will they be in time? —Afterburner <aburner@erols.com>
Photos
See all photos >>