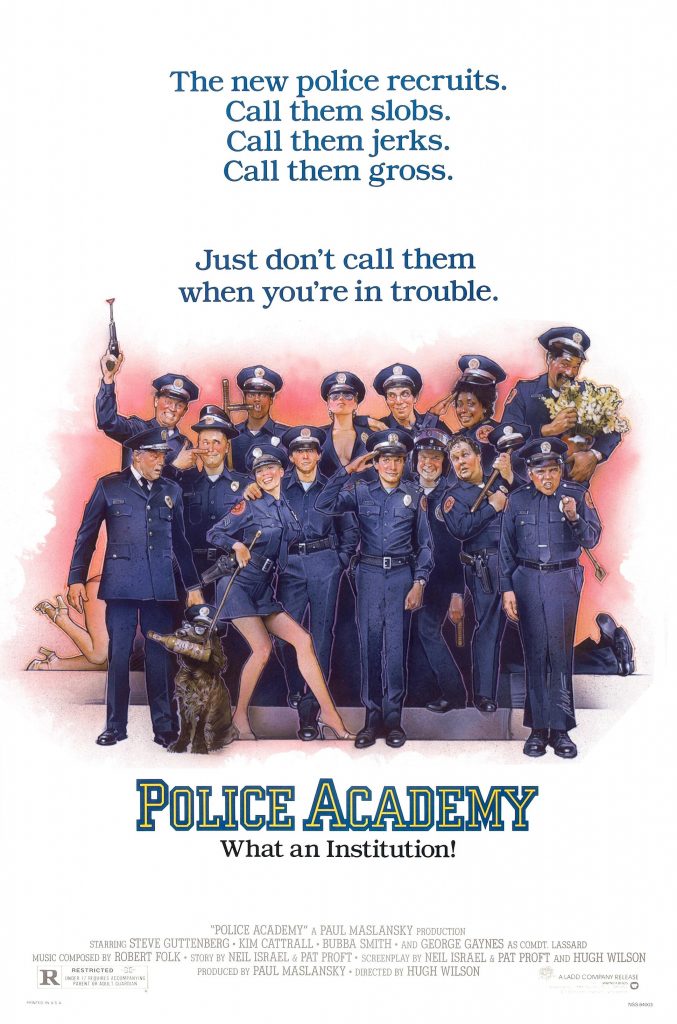 When a comedy has 6 sequels, each of which got progressively worse until the final in the series hardly even made it onto a theater screen, it's hard to judge the first one fairly, especially since it never would've happened without the classic film "The Right Stuff".
---
During the filming of "The Right Stuff", Hollywood Producer saw some pretty incompetent crowd control, and was told anyone who applied for training in the Academy got in. It got him thinking, and contacted his friend Alan Ladd Jr and the rest is history.
Everyone was considered for the lead, from Rick Moranis to Tom Hanks (who took "Splash" instead) to Bill Murray to Michael Keaton. They got Steve Guttenberg.
Didn't matter, because they landed "Porky's" Kim Cattrall, and that was the movie they wanted to be like. Then they hired a director of TV comedies Hugh Wilson (who just got turned down for "Amadeus", and so began a war over how vulgar the film would be. The script was much raunchier than the final product.
But was it a hit! Top 5 box office for the year while Splash didn't crack the Top 10 with over twice the budget.
But history isn't kind to it. Director Wilson took Sgt. Harris (G.W. Bailey) and bombed in "Rustler's Rhapsody" and then went back to TV. Kim Cattrall didn't touch the sequels and found good success in films until "Sex in the City" relaunched her into stardom. Guttenberg went into rom-com territory, scoring with "Three Men and a Baby" between P.A. sequels.
But most of the cast took a straight line to Hollywood Squares.
Then what was it such a big hit?
Apparently, the tension between the studio and the director worked. The studio wanted raunchy and the director wanted mainstream comedy, and the film had a good balance of the two. Everyone in the film is just darn likable, even the supposed "bad guys" are likable.
The sequels had rotating directors and rotating writers and were all PG. Part of the magic was the R-rated comedy of the original. Grosses fell picture to picture to the point of embarrassment.
But the original was a comedy to remember. Irreverent. Politically incorrect. Big business.
If you haven't seen it since the 80s, it's time for Another Take.
The Highlight Reel
Anything with Michael Winslow, who could make any sound effect for any occasion. In a film of running gags, his is the best.
---
Police Academy Comedy | 96min | March 23, 1984 (United States)

6.7

Director:
Hugh Wilson
Writer: Neal Israel, Pat Proft, Hugh Wilson
Stars: Steve Guttenberg, G.W. Bailey, Kim Cattrall
Summary:
In desperate need of a fresh batch of police officers, the newly appointed Lady Mayoress of a crime-plagued metropolis lowers the bar for the recruitment process. As a result, all types of misfits start flocking into Commandant Eric Lassard's prestigious Police Academy, and the leader of this assortment of pariahs is Carey Mahoney: a light-hearted, devil-may-care young rebel. But now, there is no turning back, and to make matters worse, the autocratic martinet, Lieutenant Harris, can't wait to see them quit. Then, a full-scale riot breaks out, and the inexperienced but dauntless cadets will have to put their training to good use. Do they have what it takes to be law-enforcement officers? —Nick Riganas
Photos
See all photos >>