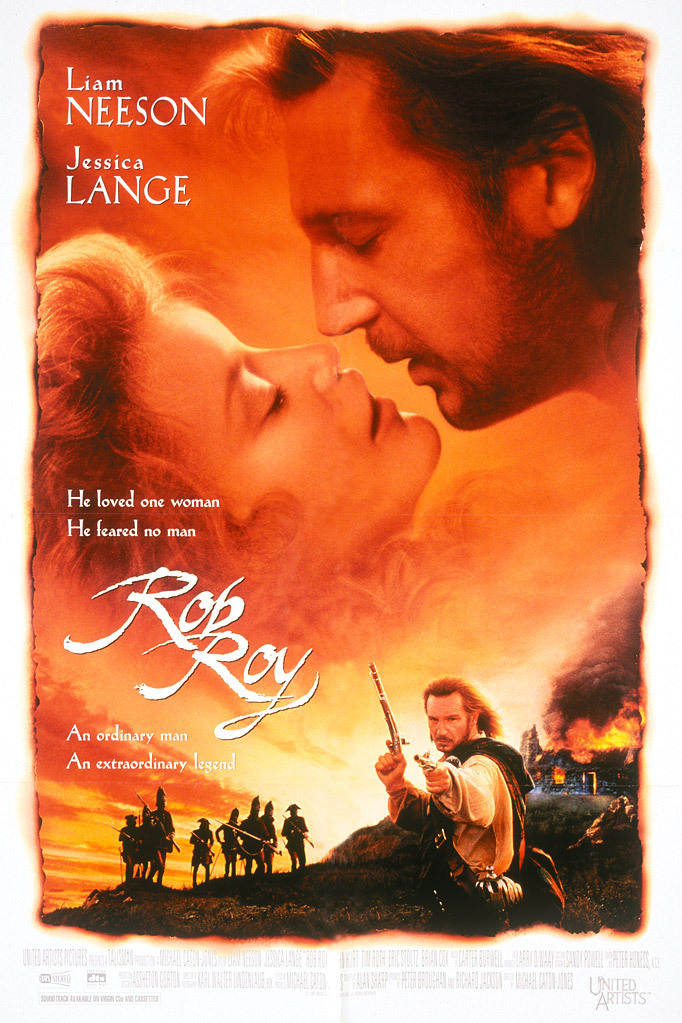 "Braveheart" got the attention but "Rob Roy" deserved more.
---
I don't think there is a better swashbuckler with smarter, dry and wittier dialogue than Rob Roy. Oddly, the best dialogue is with the supporting cast.
This historical dramatization of the real Highlander Robert Roy MacGregor is one you'll want to watch with the volume up. The dialogue is musical in its flow, and the swordfighting scenes include some excellent sound from the clashes of metal to the cheers of the onlookers in a sweet balance.
Neeson plays the role straight, showing a flawed man who clings to his honor even if it means destruction of those around him. Roy doesn't have much of a character arc, but is just a man who is steady and resolute, and willing to wait for his moment.
Lange adds so much to him. Their love for each other is palpable, even though her frustrations with her husband's stubbornness is real. "You take too much to heart that can't be helped," she says to him in a moment of clarity. But she realizes the things she chides him about are the things that drew her to him.
An abundance of the film is in the charming interplay of egos in John Hurt's Montrose and Tim Roth's Cunningham, whom the film strongly hints are related. Roth plays the part with a dastardly, foppish conceit. Montrose knows more than he lets on, and spoils the brat while enjoying the won wagers on his duels.
The two dominate every scene either are in, and the film is fueled by these performances. When Montrose debates the Duke of Argyll, the barbs are vicious and direct. It is in the interplay of the powerful where the film finds its voice. It isn't overly concerned with Rob Roy's life outside of these men. It is his battles with and around them that drive the story.
Combine that with some of the most realistic and brutal sword fights committed to film, and you have a film that deserves another take. But don't miss a word.
The Highlight Reel
The first sword matchup is preceded by a glorious round of insults between Montrose and Argyll and you'll be tempted to watch this scene over and over again.  Oh, if a political debate could be this fun.
---
Rob Roy Adventure, Biography, Drama, History | 139min | April 14, 1995 (United States)

6.9

Director:
Michael Caton-Jones
Writer:
Alan Sharp
Stars: Liam Neeson, Jessica Lange, John Hurt
Summary:
In the highlands of Scotland in the 1700s, Rob Roy tries to lead his small town to a better future, by borrowing money from the local nobility to buy cattle to herd to market. When the money is stolen, Rob is forced into a Robin Hood lifestyle to defend his family and honor. —Rob Hartill
Photos
See all photos >>