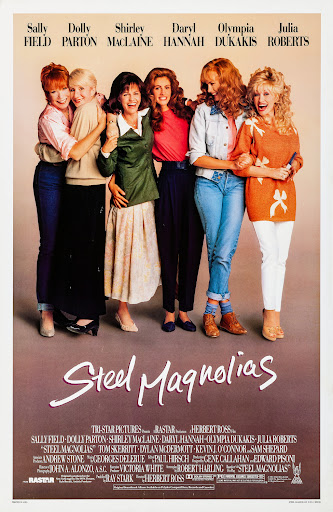 Some films are meant to be read. "Steel Magnolias" is one of those films where the dialogue is the lifeblood of the films.
---
The plot isn't really interesting and doesn't go many places. The spine of the story is this group of close-knit friends and the drama of the good times and bad that bind them.
The drama involves a diabetic daughter and her health issues which drive the story forward. It's a true story written by her brother and became a hit broadway play and two film versions.
Julia Roberts plays the daughter, Shelby, who gets married, pregnant and becomes a mom. Most of the other characters are pretty much the same at the end as the beginning. Shirley MacLaine has the showiest part as Ouiser, the smart-alec negative twice-divorced one. She has all the great lines. Olympia Dukakis, as Clairee, is the widowed first-lady of the town and Dolly Parton, as Truvy, runs the beauty shop where all the chatter happens.
Julia Roberts gets a lot of the attention, and the only Academy Award nomination, in this film, but how the Oscars missed Sally Field is beyond me. This is a tour-de-force for Field.
Field shows all the depth and range of acting one could hope for. In a dialogue-rich film, and really the writing in this movie is first class, Field makes every scene special with what she does between her lines. Her reacting, her expressions. Everything Field does tells a story, and her monologue late in the picture might just be her best work ever.
Life on set was apparently not paradise. Director Herbert Ross, a dancer/choreographer turned director whose films range from "Funny Lady" to "The Sunshine Boys" to "The Goodbye Girl", has a heck of a time getting what he wanted on set. Lots of shouting and tears off camera led to some pretty strong moments on camera, with a good number of reshoots.
In the end, the cast bonded and Ross knows what he's doing.
Sally Field was his first choice, and she makes the movie for me.
It's worth another take if you haven't seen it for a while, but instead of losing yourself in the absolutely wonderful dialogue, keep your eyes on Sally Field whether she's talking or not. She's a joy.
The Highlight Reel
The scene that gets me every time is when M'lynn is standing at the doorway with her husband as they watch their daughter leave the wedding reception.  Drum's look doesn't change, but M'lynn rifles through a half-dozen emotions without saying a word.  It's great work.
---
Steel Magnolias Comedy, Drama, Romance | 117min | November 22, 1989 (United States)

7.3

Director:
Herbert Ross
Writer:
Robert Harling
Stars: Shirley MacLaine, Olympia Dukakis, Sally Field
Summary:
Pivoting around the lively Truvy Jones' Louisiana beauty parlour, a tightly-knit band of friends, confront griefs, loss, life's unforeseen tragedies and heartaches with what they do best: gossiping and sharing. The spirited diabetic and bride-to-be, Shelby; her always supportive mother, M'Lynn; Truvy's gawky assistant, Annelle; the city's curmudgeon, Ouiser; and the town's former first lady, Clairee, are the warm Southern belles who know how to survive life's challenges with their unwavering friendship. But when Shelby decides to conceive, things will turn upside down.. —Nick Riganas
Photos
See all photos >>