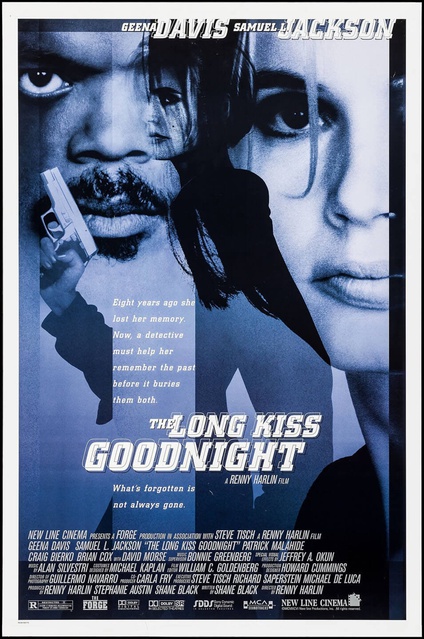 How the hell did this cost $65 million?
---
That's almost as much as it cost to make "The Rock" the same year, and that got us Sean Connery, Nicholas Cage and Ed Harris, and it got the studio more than twice that at the box office.
But darn it, I love "The Long Kiss Goodnight".
It paid Shane Black $4 million to write it, practically got him out of the screenwriting business, quite a feat after writing "Lethal Weapon".
Geena Davis as the star and Renny Harlin as director, married to each other at the time, saw their careers hit a big skid after "Cutthroat Island" and this film.
Even the lead bad guy of the film Craig Bierko went to tv parts and is best known for turning down the part of Chandler on "Friends".
But I love this movie, even though I have no idea what the title means.
I think Geena Davis plays the dual personality lead with great aplomb, and who doesn't like Samuel L. Jackson? This isn't Tarantino-level dialogue but it works, and Jackson can make almost any line work.
But the bottom line is this movie builds. It's a smart script. It ties Davis' lives together nicely and brings the action pieces, every one of them, to great action levels. Everything is believable, from a train station to water torture to a locked freezer unit to a bomb on a bridge. It all works.
It wasn't a big blockbuster, making more than its budget back and why the studio released it in October is beyond me, but after "Cutthroat Island" I have to be happy it was made at all.
"The Long Kiss Goodnight" pops up on television about once a year on networks few have ever heard of. I've read that Jackson loves watching this, and coming between "Pulp Fiction" and the Star Wars prequels, it's nice to see him in a male lead. Soon after, he did what amounts to a cameo in "Deep Blue Sea." He carries the film here.
If you want a fun action movie that's probably quite a few years ahead of its time with a healthy dose of leftover 80s action film one liners, find this film and give it another take.The Highlight Reel
This may be the best water torture scene in movie history.
---
The Long Kiss Goodnight Action, Crime, Drama, Mystery, Thriller | 121min | October 11, 1996 (United States)

6.8

Director:
Renny Harlin
Writer:
Shane Black
Stars: Geena Davis, Samuel L. Jackson, Yvonne Zima
Summary:
Samantha Caine, suburban homemaker, is the ideal mom to her 8 year old daughter Caitlin. She lives in Honesdale, PA, has a job teaching school and makes the best Rice Krispie treats in town. But when she receives a bump on her head, she begins to remember small parts of her previous life as a lethal, top-secret agent. Her old chums in the Chapter are now out to kill her so she enlists the help of a cheap detective named Mitch. As Samantha remembers more and more of her previous life, she becomes deadlier and more resourceful. Both Mitch and Charly proceed to do the killing thing, the bleeding thing and the shooting thing. —Tony Fontana <tony.fontana@spacebbs.com>
Photos
See all photos >>