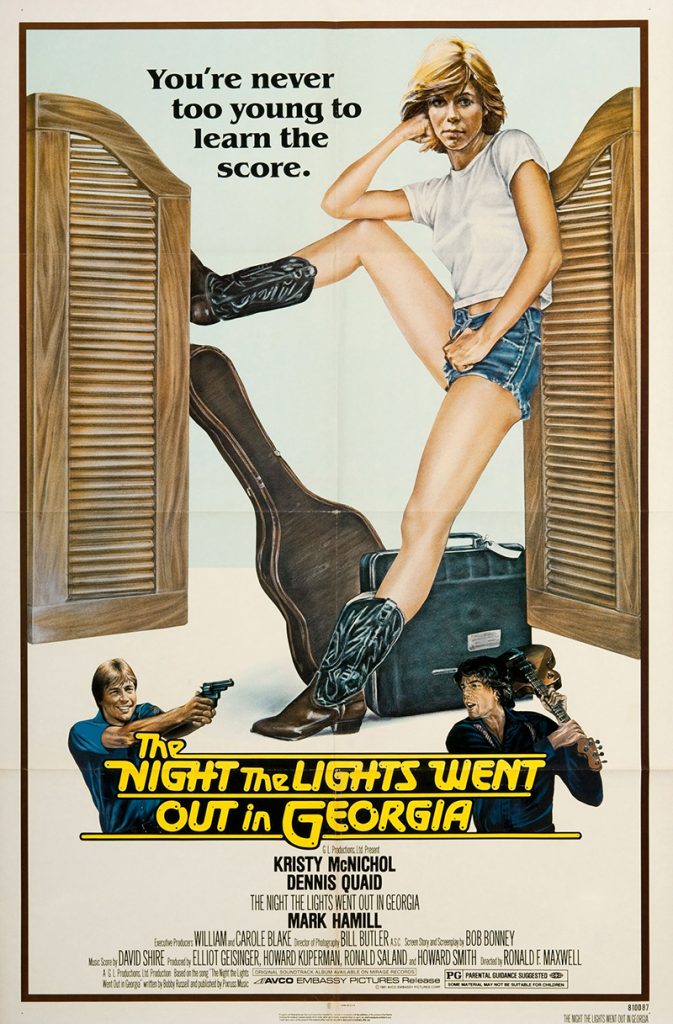 The only reason I ever heard of this movie is that I saw it at least a dozen times.
---
I lived in a neighborhood that had a neighborhood movie theater, which played final-run movies for weeks on end. "The Night the Lights Went Out in Georgia" played for weeks, and movies were one of the few things I was allowed to do outside past dark.
As any young Star Wars fan, I flocked to anything starring Luke Skywalker. This film was a bomb, of course, but it grows on you after the first ten viewings or so.
A story about a brother and sister country music singing and songwriting tandem with hard drinking and target shooting sounds rougher than it is, but it comes off pretty cute. Throw in a tough Southern judge and a jerk of a state trooper known for beating confessions out of drunks, and you have a hit movie, right?
Wrong, but it's good. Dennis Quaid does his own singing, and handles it well. I wonder why he didn't go full-Busey in the Jerry Lee Lewis pic "Great Balls of Fire" because he has the notes to pull it off. Kristy McNichol throws in a song or two and gives being a romantic lead a whirl, but it all comes off pretty forced.
Somehow, it all works. The bad guys are bad. The good guys are good. Quaid is so darn likeable, and McNichol's character arc is interesting to watch. The music is good and it all fits. Quaid's character is a country bar rocker who had a one-hit wonder, and seems happy with that. It's McNichol who is the driven one. They're two sides of a coin, and you get the feeling neither one would be successful without the other.
Like any country music song, you just know this movie isn't ending well. Some scars are permanent, and the ones in this movie definitely are. It's a mess movie with a messy ending, but somehow people manage. So don't dwell on the plot holes and enjoy this film for what it is.
By the 12th time, you'll love it, too
The Highlight Reel
There is actually one great scene with exceptional acting near the end between Quaid and McNichol.  It's the true conflict in the film between the hunger for the spotlight and the price it demands for fame.  Underlying the scene is an instrumental hint of a song from an earlier concert scene that drives home the point of the film.   It's a quiet great scene, and it doesn't resolve anything, but if you miss it, you've missed the reason for the film.
---
The Night the Lights Went Out in Georgia Drama, Music | 112min | June 5, 1981 (United States)

6.0

Director:
Ron Maxwell
Writer: Bob Bonney, Bobby Russell
Stars: Kristy McNichol, Dennis Quaid, Mark Hamill
Summary:
Country singer Travis (Dennis Quaid) and his younger sister Amanda (Kristy McNichol) travel to Nashville, Tennessee to find fame as singers. After getting into trouble with the law, Travis is sentenced to work detail at a prison farm. Amanda falls in love with Conrad (Mark Hamill), who tries to help Travis.
Photos
See all photos >>