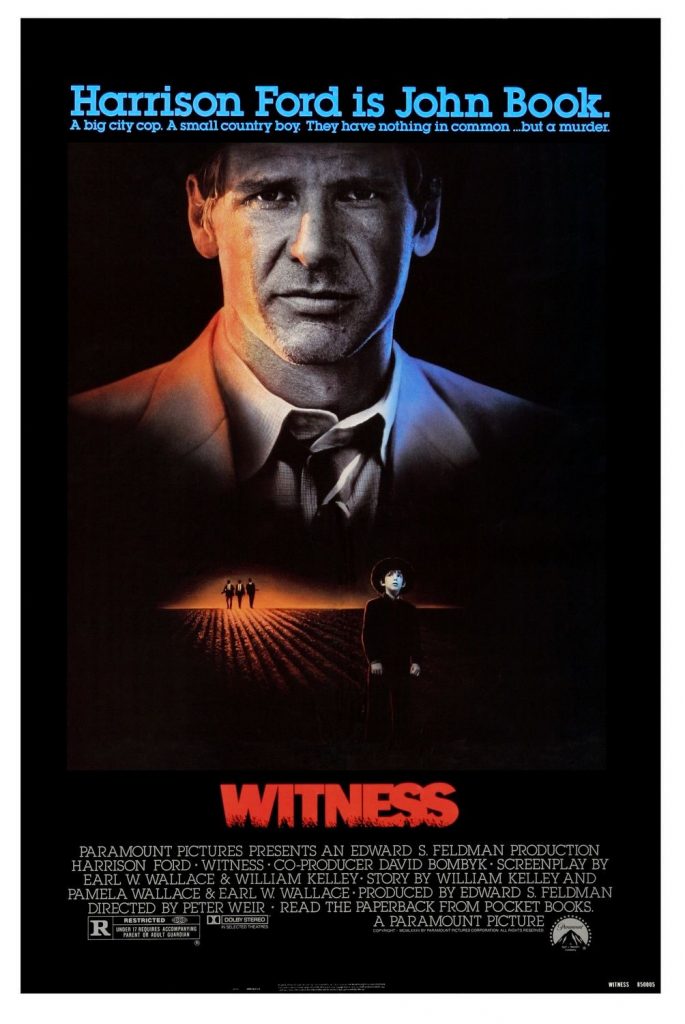 There's hardly any part of "Witness" I don't love. In fact, I wonder how a film like this even got green-lit.
---
Much of the supporting cast and the two writers were perennial television workers, the director had never directed an American film, and films about the Amish weren't known to be blockbusters.
But this film has Harrison Ford. After playing Han Solo and Indiana Jones, I imagine any film with Harrison Ford gets budgeted. But it wasn't that way. Studios wanted Sylvester Stallone. Sly said no, and regrets it. Nicholson rejected it, as did every major studio.
But it was made, and the resulting work was indeed collaborative. Harrison Ford worked with Philly cops in preparation of playing one. Kelly McGillis, an unknown at this point, lived with a widowed Amish mother.
But this is Australian director Peter Weir's film. He had the script cut and rewritten and his previous films "Gallipoli" and "The Year of Living Dangerously" show the cinematography and scope, the dialogue and the relationships that a Weir film demonstrates.
The story, an Amish child witnesses a murder of a police officer, and identifies an unlikely suspect, causing the detective assigned to hide out and live among the Amish himself, is essential a means to an end. The movie is in this city cop and his cultural and sociological differences living among the devout Amish.
It hits deep topics from nonviolence to shunning to pride, and a pretty great child performance by Lukas Haas, who went on to a pretty prolific career. Ford gets the only Oscar nomination of his life. The film got a slew of Oscar nominations, including Best Picture, Director, Cinematography, Art Direction and Score, and won for Screenplay and Editing, a veritable crime that the Oscars stopped there.
The casting in "Witness" had an eye for future stars. In addition to McGillis, who went on to international stardom in "Top Gun", you'll find Danny Glover, Viggo Mortensen and a nice cameo by the Tony award-winning "Evita" herself, Patti LuPone.
But my standout performance pick has got to be Jan Rubes, a Czechoslovakian opera singer who transformed himself into an Amish community leader and tries to squash the culture conflicts within McGillis as the film progresses. The film doesn't work without him, and Rubes takes what could easily become a caricature into a nice arc of progression. His individual scenes with Ford, McGillis and the young Haas each have their own flavors and he makes everyone shine. Really fine and overlooked work.
The $12 million budget led to a $69 million box office, placing it in the Top Ten, beating out "The Breakfast Club" and the latest Bond movie, "A View to a Kill".
Stallone's choice instead of "Witness", "Rambo: First Blood Part II" didn't do too badly, doubling this film's box office.
"Witness" is a film that deserves another take.
Fun fact – In a odd similarity to "Raiders of the Lost Ark", the last scene between the two leads was dialogue heavy and Ford was very ill. Pages and pages were cut, like the famous "shoot the swordsman" scene from "Raiders". Another Raiders nod – look for the child Haas to retrieve his hat in a very Indiana Jones-like way.
The Highlight Reel
It takes a barn.  The town builds a barn for newlyweds, and it is an event that tells a myriad of stories without a word of dialogue.  Social roles, conflicts, acceptance, and traditions all play out and are explained visually and paced and communicated so well, the scene is a mini-movie in itself.  It's a major transition in the film, and is the highlight of the film for me.
---
Witness Crime, Drama, Romance, Thriller | 112min | February 8, 1985 (United States)

7.4

Director:
Peter Weir
Writer: William Kelley, Pamela Wallace, Earl W. Wallace
Stars: Harrison Ford, Kelly McGillis, Lukas Haas
Summary:
An 8 year old Amish boy and his mother are traveling to Philadelphia, on their way to visit the mother's sister. While waiting at the train station, the young boy witnesses a brutal murder inside one of the bathroom stalls. Police detective John Book is assigned to investigate the murder of the man, who was an undercover cop. Soon after, Book finds out that he's in great danger when the culprits know about his investigation and hides out in the Amish community. There, he learns the way of living among the Amish locals, which consists of non-violence and agriculture. Book soon starts a romance with the mother of the little boy, but their romance is forbidden by the Amish standards. But, it's not long before the bad guys find out Book's whereabouts. —blazesnakes9
Photos
See all photos >>